LingvaFest' is a language festival that E@I organizes every year. It usually takes place in Bratislava but maybe one day that will change? I've heard about it since the beginning of my EVS – I even have received a LingvaFest' sticker I stuck on my computer. Oh, sweet memories from that strange travel in Czechoslovakia, I would say to myself, seeing that again.
You know what else I will remember? The friends I've made, the tired laughs and the pizza slices I ate. The huge beers that I never finished at the beginning – that I drink again today. My attempts at Russian, my English-Esperanto mixes and my French jokes. Good times and less good times – and this general satisfaction to be here, voluntary and committed.
We arrived two days earlier to organize everything – the booths, the T-shirts, the thousands of chairs, the photo booth and, by the way, say hello to those places that had been badly missed. And, after all this turmoil, put on our volunteer role.
LingvaFest' had this particularity, compared to other events, to offer us a dobrovoľník T-shirt. I felt a little special, a little more volunteer than usual, and easier to spot. It was a pleasure to be approached in Slovak by someone who decides to tell me his story before I can valiantly answer them "Nehovorím po slovensky, anglicky?". My favorite part was probably the time when three children asked me something that I did not understand but that I still tried to take them to the information desk. And then they finally abandoned me in the middle of the hall.
Because, yes, LingvaFest' is also that. Dozens of volunteers who carry a lot of things – too many tables and chairs, volunteers who advise you, who guide you, but also speakers who came to present workshops and courses (we had more than 100) (and I even made one!).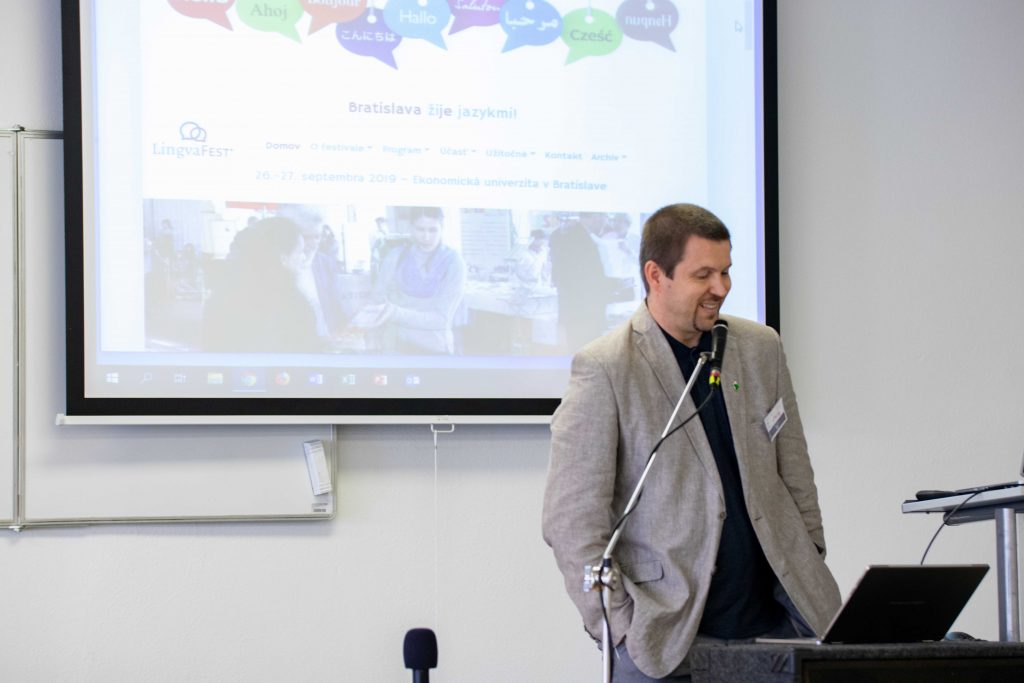 For two days (from 25 to 26 September 2019, this year) you can come to learn about a lot of things, attend language crash courses (and even discover them, such as Toki Pona or Esperanto) or participate in workshops where you can discover a few about the others a lot about you. This event, like every event organized by E@I, has a small soul, a voice and a personality. And during each of these meetings, I always found some of what I was looking for, without really knowing what is was or how I did that.
As I told you earlier, I had the opportunity to give a course – of French more precisely, because yes, indeed, I come from this beautiful country, France! And so, despite the valiant advice of my friends (talk about JUL, said Matthieu, but there will be no one, said Michal), I finally found my way to do it. I did a lot of improvisation, I was stressed, I asked for advice and then I thought about running away – but I do not have a driving licence.
And finally, when I saw these 8 people in this small room who came specifically to learn a little more about the French langage, I understood a little more about myself. I love teaching and seeing the interest and enthusiasm of these people – and I think I did well. And you know, I'm so good in French that even Matthieu came to my class.
Have I told you about the Russian booth, which Daria loved? Or the one about Spain, that I do not approach because I do not speak Spanish and, worse, because I'm allergic to it. Or the game, Vortoj, where we can show our lack of talent in dance and languages ​​at the same time? Never forget the record beaten in High Valyrian by my humble person. All heroes do not wear capes.
Or of the workshop on fears and mistakes? "Fears and Mistakes", by Hon Chong (Funnylicious), gave me more way to accept our fears – and showed me how to understand better our mistakes and not fear them anymore. Applaud. As soon as you are wrong. Be proud of your mistakes and come out stronger and more confident.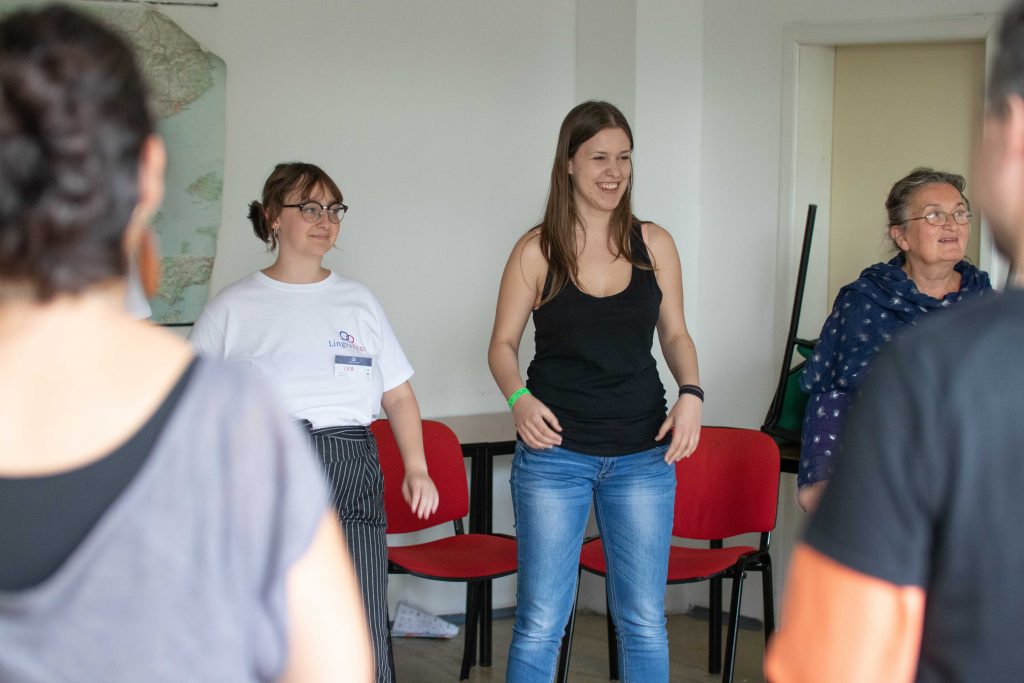 A bit like I do after each event. Being a volunteer has become a part of me – and a part of my life. Each new meeting always offers us new perspectives and new horizons, a new way of seeing life and new discoveries. LingvaFest' has been two intense days, but full of beautiful memories. Long days, short nights, but sincere happiness.
You know, polyglot events or languages meeting… We meet people there, we take pictures, we try not talk in Russian or in French and we laugh in unison. It's a unique chance to live and learn.
And now, I would like to end this text with this sentence who comes from a friend: "I feel alive!" to make you think about what make you feel alive.
Have a good day everyone,
Your brave Lea.
This article was written by Léa Pillot-Colin within her European Voluntary Service.