Edukado@Interreto (E@I) is an international non-governmental organization that supports international cooperation and communication throughout the world. Its projects are aimed at intercultural learning, languages and the use of computers, creating websites, publishing books, producing learning materials and organizing events.
One of the best-known projects of E@I was in the past lernu!, a portal to learn Esperanto. The development of a similar online tool to learn Slovak (slovake.eu) has been funded by the EU since 2009 and then further developed thanks to financial support from the Erasmus+ program. This was followed by a website for learning German (deutsch.info), Russian, Polish, a website about languages in Europe (lingvo.info) and others. In addition, E@I is involved in various other projects related to education and/or Esperanto.
E@I organizes several events, among them the Polyglot Gathering – the largest international event for polyglots and language lovers; Summer Esperanto Study (SES) – a week-long summer Esperanto meeting with Esperanto courses for both beginners and advanced students; the Conference on the Applications of Esperanto in Science and Technology (KAEST) – a series of seminars and conferences, practicing scientific and technical applications of Esperanto; the language festival LingvaFest'. Since 2022 E@I has also been an organizing partner for the Universal Congress of Esperanto, the largest gathering of Esperantists worldwide. Due to the COVID-19 pandemic, several events have gone virtual, and for that E@I has created its own multilingual platform for online events: Retevent. (UEA's virtual congress, VK, happens through this platform, and E@I is responsible for the technical side.)
Most of the organization's activities take place thanks to the work of volunteers. Since 2013, E@I has been an accredited organization that can officially host and send volunteers as part of the European Voluntary Service and now the European Solidarity Corps, which is financially supported by the European Union. It is worth taking advantage of this opportunity and coming to experience tasks related to E@I activities, in an international office, intercultural atmosphere, using an international language. 🙂
Conditions
Country of origin: for the European Solidarity Corps, the accepted countries are:

all the countries of the European Union (Austria, Belgium, Bulgaria, Czechia, Denmark, Estonia, Finland, France, Germany, Greece, Spain, Hungary, Ireland, Italy, Cyprus, Croatia, Latvia, Lithuania, Luxembourg, Malta, Netherlands, Poland, Portugal, Romania, Slovakia, Slovenia, Sweden);
non-EU programme countries: Iceland, Liechtenstein, Macedonia,  Turkey;
partner countries: Norway, Russia, Western Balkans (Albania, Bosnia and Herzegovina, Kosovo, Montenegro, Serbia), eastern partner countries of EU (Armenia, Azerbaijan, Belarus, Georgia, Moldavia, Ukraine), south Mediterranean countries (Algeria, Egypt, Israel, Jordan, Lebanon, Libya, Morocco, Palestine, Syria, Tunisia).

Age: 18-30 (upper age limit: participants must not be older than the indicated maximum age on the first day of volunteering).
Knowledge of Esperanto: A1 and must be willing to further pursue their Esperanto studies (one receives materials and lessons upon arrival).
People who have already participated in a short-term EVS/ESC project of up to 2 months can apply.
Tasks
For 8-12 months you will be able to work together with other Esperantists from different countries in the main headquarters of Edukado@Interreto in Nová Dubnica (Slovakia). You will also have the opportunity to participate and even co-organize various Esperanto events, seminars, conferences.
Your tasks can vary greatly and it will be possible to adapt them according to your preferences, abilities and skills. Here are some possible tasks (the range can be more varied and depends on the time period and concrete current projects):
Present your country and culture in schools of the city and region

Organize (with our help) a language café for residents of the city

Participate in E@I presentations (in exhibitions, events, presentation booths)

Actively co-organize events (Polyglot Gathering, Summer Esperanto Study, KAEST, Universala Kongreso de Esperanto, LingvaFest'…): their planning, advertisement, communication with participants, program preparation, on-site assistance, photography/filming, maintenance of social networks and YouTube channels

Co-organize online (virtual) events (Polyglot Gathering, Virtual Congress, Retoso…)

Participate in E@I's online projects (e.g. deutsch.info, slovake.eu, testu.eu)

Help with our online Esperanto shop (mendu.ikso.net), to take care of orders, update the website, communicate with customers, send packages, etc.

Take care of the Esperanto archive and library, which is located in the same city, only 700 m from the E@I office: sorting documents and books, cataloguing them, scanning…

Write blog posts, articles about our projects, create graphics…

Help manage the social networks of our organization and our events and projects (yes, there are many of them 🙂
Compensation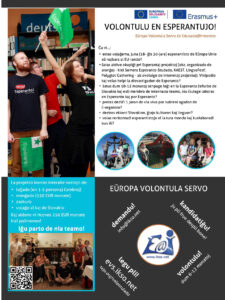 The European Commission, the organizer of European Solidarity Corps, compensates:
Reimbursement of the traveling expenses of one return trip to/from Nová Dubnica,
help and reimbursement of costs related to receiving visa,
full reimbursement for the costs of living (you will live in an apartment with other E@I volunteers, Esperantists),
payment for the materials needed for your work,

food allowance and pocket money (a total of ≃400 euros per month),

full insurance for the entirety of the volunteering,
two training sessions (the first soon after arrival in Slovakia, the second in the middle of the volunteering experience),
a course of Slovak (and you also can use our internet course slovake.eu in Esperanto or perhaps also in your native tongue),
YouthPass certificate, which you can receive by the end of your term and which shall list all that you have learned and tried,
assistance of mentors from the hosting associations.
Time
From October 2023 for 8-12 months
Work: 35-38 hours a week
Free time: 2 days every week + 2 days every month
Apply
Shall you decide to give it a try, please fill in this document in Esperanto or this document in English and send it to info@ikso.net.
Do not hesitate and send a message to the same address shall you have any questions.
Projects
Solidarity for multilingualism
The project "Solidarity for multilingualism" started on 20.08.2019 and will finish on 19.08.2021.
There's another way – (not only) online education
The project "There's another way – (not only) online education" covers, in addition to Slovakia, France and other programme or partner countries. It takes place in the
town of Partizánske and its surroundings for 12 months. The project took place in Partizánske from 06.08.2018 to 05.11.2020.

Through e-learning we help the world
The realization of the project "Through e-learning we help the world" allowed E@I to accept four volunteers: two volunteers from Russia, one from Germany and one from Czechia. The project started on 01.05.2017 and will finish on 31.11.2018.
Education and the Internet – a pair that changes the world
In the frame of the project "Education and the Internet – a pair that changes the world" E@I accepted three volunteers, one from Georgia, Russia and Ukraine. The project took part in the town of Partizánske and its surroundings from 01.05.2016 to 31.09.2017.
Languages and cultures – live and online
The project "Languages and cultures – live and online" covers the programme countries Slovakia, Poland and Italy. It took place in the town Partizánske and surroundings from 01.03.2016 till 31.05.2017. During the time it lasted E@I hosted two volunteers from Poland and Italy. The goal of the project was to link internet language learning with real life communication through the student's active personal involvement.
By volunteering to international Slovakia
Volunteers in the swirl of international Slovakia
The project gives young people an opportunity to take part in the biggest and the best recent projects of E@I. Those include international project regarding the Programme for Lifelong Learning and the currently being prepared 101st Universal Congress of Esperanto in Nitra.
Wikipedia to volunteers, volunteers to Slovakia
The project gives volunteers a unique opportunity to acquire detailed knowledge of the inner workings of Wikipedia and its associated projects (Wikimedia Community, Wiktionary, Wiki-citations, etc.) and learn how to take advantage of the possibilities offered by Wikipedia.

Learning languages (not only) online
The second project of E@I in the scope of European voluntary service. In fact four volunteers from Sweden, Germany, Poland and Italy have the unique opportunity to collaborate on big international E@I projects, which join two main traits – multilingualism and usefulness of IKT. The goal of the project is to link online language learning with communication in real life.
Online learning in practice
The first project of E@I in terms of European Voluntary Service. Two volunteers from Turkey and France help realize the language café in Partizánske, bring modern technologies closer to people and create bridges between online learning and our every day lives.
Photos
Several photos of the life of our volunteers in Slovakia.

This project has been funded with support from the European Commission. This publication reflects the views only of the author, and the Commission cannot be held responsible for any use which may be made of the information contained therein.